There are many reasons for different people to move to Dubai. It is after all the technological hub for the MENA region. Anyone can enjoy the diversity of culture, luxurious Dubai lifestyle, warm winter season, great architecture and high-end malls, not to mention theme parks for the kids. Dubai also offers many great job opportunities.
The following are guidelines on the essential items that you have to prepare when you plan to move to Dubai:
On Life in Dubai
It is normal for you to be worried about Dubai being an Islamic country. Soon enough, you will realize that Dubai is not too far from the US. It is open and tolerant to a diversity of cultures and it is not discriminatory as well.
Dubai is full of expats and it is highly inclusive which means that you need not live a life of strict boundaries. The city is filled with many tourist attractions and it is pretty much glamorous as well.
Weekends and Language
There may be a slight adjustment in terms of weekend observance. The weekend in Dubai starts on Friday and ends on Saturday. Sunday is similar to the American Monday. The official language in Dubai is Arabic but most of the people speak English. Here are some great things to do on a weekend in Dubai.
Food
Dubai offers several cuisines from Italian, American, Indian, Chinese, and a lot more. There are also American franchises spread out all over the country. That means the food you enjoy in America may also be enjoyed in the country. It does not make you feel like you are away from home in the culinary sense. These are some of the popular American restaurants in Dubai: Hard Rock Café, Texas Roadhouse, and Scots American Grill. You can also try the most unique restaurants in Dubai.
Going Around
Dubai has an organized network of public transportation composed of taxis, buses, the Tram, and the Metro. It is possible to drive around the city. Its traffic is not similar to New York City, rather it is like Los Angeles but with better transportation services.
Dress Code
When women go to religious places, they are advised to wear long pants and short sleeves while men may come wearing shorts unless there is a policy against wearing it. In the city, you are allowed to wear almost anything except for really skimpy tops and skirts or shorts that are better worn in the beaches and night clubs.
Weather
The weather may be the most major adjustment when moving from the US to Dubai. The city gives you a warm winter and a really hot summer. January is the coldest month at 60 degrees Fahrenheit while August is the hottest at 110 degrees Fahrenheit.
Marriage
For a non-Muslim, marriage can be done in a church or the US embassy and according to the standard requirements of the two entities.
Birth and Death
A passport and birth certificate must be acquired from the US embassy. When a death occurs, the death must be reported by the family to the US Consulate General.
Work Environment
Dubai has many international workers and the local workers are also highly educated. One of the perks of working in the country is its lenient tax system.
On Visas
For a holder of a US passport that is valid for 6 months, you may ask for a one-month stay visa in Dubai upon arrival. For longer stays, you can request it at the immigration. There are different visas offered in Dubai namely, Property Owner Visa, Investor Visa, Employment Visa, Student Visa, and Dependent Visa. It is also possible for you to sponsor your spouse and dependents who are under 18 years old for as long as you are earning not less than AED 4,000 or AED 3,000 plus accommodation.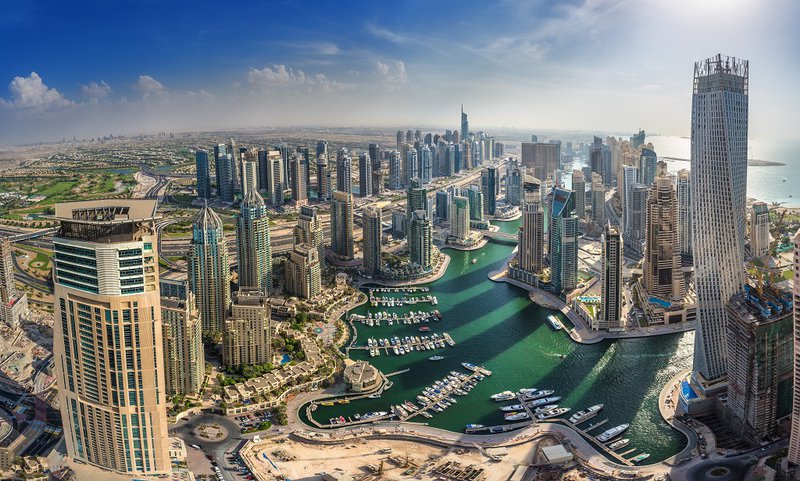 On Cost of Living
Another major adjustment when moving to Dubai is the cost of living. It is known as one of the most expensive cities in the world. It's a good thing that you can easily find lucrative employment in the city, and it is also known for ease of business.
Recommended Article: Surviving Dubai's Cost of Living Without Difficulty
Renting or Buying Homes
Dubai real estate is a highly developing market in Dubai. For most people, this is the element that takes the bulk of their salaries. Different areas around the city can offer great property investments for a new couple, a single professional, or a family. Recently, more flexible payment terms have been set for investors to avail.
Taxes
One of the greatest advantages of living in Dubai is that it is tax-free. You don't have to pay income taxes to the government and VAT is only a minimal at 5 percent. Some of the taxes may also be reduced by subtracting the foreign house amounts. These are accommodation costs.
The UAE government recently made it possible for expats to have pensions, the amount of which depends on the salaries and employment years spent working at the company. It's better to consult with your own company since some of them have their private pension plans.
Dubai has several private hospitals. There are also local hospitals, but you must acquire a health card from the Department of Health and Medical Services. However, the company you're working in will be able to provide you with private health insurance to take care of all your health needs.
These are some of the most important aspects to consider when moving to this rich country. No amount of preparation will ever make you completely ready, but it is more convenient to plan out everything. If you are targeting a Dubai real estate property, you can contact ReDubai for more information.