Today tourist communities in Dubai can now pop their champagne corks. Dubai has softened its laws on alcohol consumption for non-Muslim tourists who can avail themselves of a 30-day license that enables them to purchase liquor from designated outlets. This is only one of the changes in the fast-changing country from the sleepy fishing town to a rapidly developing Emirate today. There are 10 changes that tourists can now enjoy in Dubai which were not allowed in the old and conservative Dubai:
1. Own Your Own Company
The city now allows 100 percent foreign ownership of a company Dubai investment. It used to be that at least 51 percent of the company shares are to be owned by a national. There are several restrictions in some industries such as security and oil exploration. Other sectors such as transport, hospitality, and even space are available for foreigners.
2. Enjoy State Funding for a Startup
The city has established several well-funded accelerator programs to assist innovative entrepreneurs financially. This used to be available only for Emirati-owned companies, but it is now available even to foreign nationals. An example of this is the Mohammed Bin Rashid Innovation Fund.
3. Be Able to Have Long-Term Residency Rights
Foreigners are not allowed permanent residency in Dubai. Foreign employees and students only had short-term visas that only allowed them a bit of security planning. Today, the UAE allows for five- to ten-year visas which can be applied by investors, doctors, art and culture specialists, students, and even entrepreneurs. The law also includes their families.
4. Witness Virtual Thrills
Dubai is ahead in virtual reality innovation; it also offers a Google-enabled visual feast. Tourists can now try a simulated skydiving experience through the iFly Skydiving simulator. The Emirates A380 Experience also allows one to maneuver a virtual jet. They can be a virtual race driver at the Dubai Autodrome or simply watch blockbuster movies in virtual simulation at the Hub Zero.
5. Witness the Old Dubai Before It Became Today's Dubai
Dubai has been changing fast that people may not be aware of its history. The Dubai government is keen to revitalizing the historic district where it is shown the country as a humble fishing port area. This district is full of museums and exhibitions displaying the simpler way of life that prevailed before the skyscrapers dominate its skyline.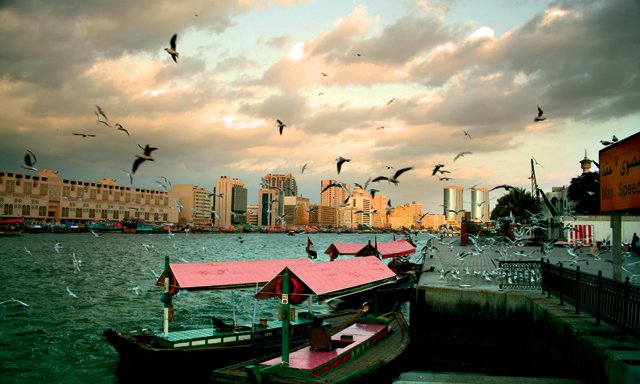 6. Be Able to Walk on Water
The artificial island, Palm Jumeirah, became operational in 2006. There has been progress on grand designs such as "The World" archipelago. Its Heart of Europe resort is now under development. There are also new islands that are emerging such as the Bluewaters Island which was opened to the public in 2018.
7. Explore the City on Two Wheels
The city had not been that accommodating to cyclists. Today it now has car-free circuits and cycle paths around the city and also in the desert which makes it easier for tourists to bike around. The city also has popular bike races, cycling holiday packages, and specialist equippers in the city which all brought this niche activity into the mainstream.
8. Stay in a Renewable Energy-Powered Home
Dubai which has sunshine all year round had been slow in harnessing the power of solar energy. The Emirate is trying hard to make up for it by planning to install solar panels on 10 percent of the homes in the city. It now has the first solar-powered apartments. It is now developing a $13.6bn solar park which can power 1.3 million homes.
9. Go Around by Being Underground or on the Water
It used to be that Dubai is nearly impossible to get around without a car. That has changed. Metro Dubai opened in 2009 and has started to provide a mass-transit system that is suitable for any modern metropolis. Its extension is due to open before the start of Expo 2020. Public transport is also available now through its expanded waterways which allow water taxis and water buses to ply along the coastline.
10. Enjoy Cutting-Edge Top of the Line Medical Treatments
Medical tourism is a fast-increasing business in Dubai with a growth rate of 13 percent annually and plans to attract around 500,000 international health tourists by the year 2021. Dubai now has elite institutions such as the King's College Hospital with top-class facilities and assistance from the government to attract medical doctors. Dubai is now known for advanced medical treatments which include 3D-printed prosthetics.
If you like to start your own Dubai investment, you can find the best professional advice online. Visit ReDubai for more information.