Dubai is known for its luxurious lifestyle, tax-free economy, and tourist spots. What most travelers are not aware of is that Dubai has a splendid world-class seaside view. In fact, Dubai, before it became what it is now, was famous for pearl diving.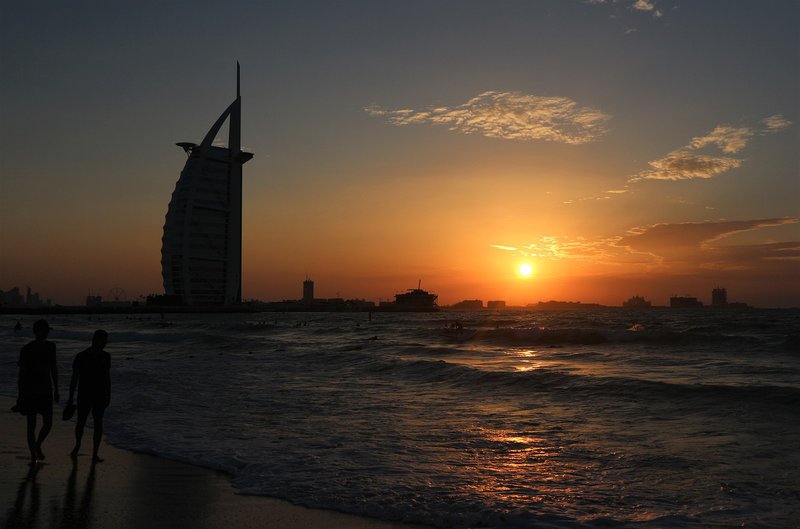 Travelers must look forward to the free beaches that Dubai offers as part of the lifestyle in Dubai. They are well-maintained and include the best facilities including business establishments such as cafes, restaurants, and at times cinemas too. Here are the best free beaches in Dubai along with some beach clubs if you are after a luxurious beach stay while in the city:
1. Beach at the JBR
This whole stretch of fine white sand along the Dubai Marina is lined with bars, cafes, restaurants, and fancy boutiques. This fashion-forward scene is packed with holidaymakers and expats particularly during weekends. Everywhere you look, there's always something to catch one's attention. In a certain direction, you'll feel the breeze and savor the glitters of the Arabian Gulf; on the other side, there are the skyscrapers of Dubai Marina. Off its beach is the landing site of Skydive Dubai. All-day long, your eyes will feast on aerobatics display.
2. Jumeirah Public Beach
The Jumeirah Public Beach at the Umm Suqeim 3 is a great place to do picnic and paddling with the kids during weekdays. It gets a bit crowded during the weekend. It's located within a residential area. During weekdays when everyone is working away in the office, you can enjoy a quiet dip in its shallow end. The beach has great facilities but limited dining options. It means you better bring yourself a picnic. The southern end of the area can get busy with tour groups. 
3. Drift Beach Dubai
Drift Beach is part of the One&Only Royal Mirage at Dubai Marina. This gives you a more secluded and subdued beach experience. Aside from the sea and skyscraper views, Drift Beach also offers cocktails and light snacks while lounging around the swimming pool and a garden.
4. La Mer
La Mer at the Jumeirah 1 is perfect for sunbathing and street foods. You'll love its artsy urban design on its seafront neighborhood filled with watersports area, cinema, inflatable playground for kids, shopping mall, and a kids' splash park. It's a haven for street food lovers. Try SALT for fancy burgers and Masti for Indian street picks. You can simply sit on the sand or pay AED60 (£13.50) for a lounger. 
5. Al Sufouh Beach
The beach at Al Sufouh is a perfect getaway from the crowd. It's located right in between Burj Al Arab and Palm Jumeirah. Al Sufouh is on the level of Dubai's most exclusive beach hotels, but you need not pay for sitting on its silky silica. 
The beach has no restaurants and facilities which explains why there is no crowd. The most you will find is a family on a picnic. Don't forget to bring a picnic and stop at the Al Sufouh Park. The beach known as Black Palace Beach or Secret Beach is just on the opposite side.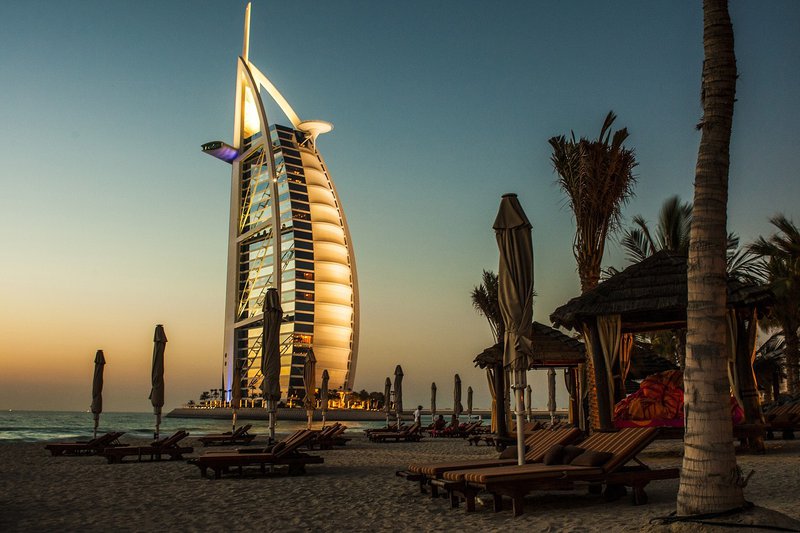 6. Fairmont The Palm
Fairmont The Palm at the Palm Jumeirah brings you Modern-Arabian glamour. The beach is overlooking the entire Dubai marina skyline with the view of glittering skyscrapers that fills the entire scene. It's off-limits to daytime tourists; it means you have to book for a hotel stay to access the beach. It's not that hard to do given you'll enjoy perks like having four pools, fine dining, and the classy modern-Arabia style. 
7. Kite Beach
The Kite Beach at the Umm Suqeim used to be the expats' secret sandy hideaway. Its soft breeze and warm sand are catnip to paddle boarders and kite surfers. Its sugary fine sand appeals to families. 
Meraas developed the area into an interesting hub for water sports, excellent beachside dining, and sunbathing while enjoying the Burj Al Arab view. A seafront running track is must-go during sunset particularly if you want to blow off steam.
8. Aquaventure Beach
Aquaventure Beach at the Atlantis The Palm in Palm Jumeirah is the go-to place for families. Aquaventure Beach is a world-class waterpark that includes a sandy shoreline. It is also home to the world's largest water slide known as the Aquaconda. This is part of The Palm complex, which entitles you to complete facilities with private cabanas, sun loungers, waiter service, and a zipline. 
Free beaches will let you experience the ultimate lifestyle in Dubai. Check out ReDubai for more info.