Thrill-seekers are always fascinated by the unknown. This does not seem to be a problem in Dubai. Everywhere you go in the city, you can always find an adrenaline-pumping activity to engage in. The following activities are meant for the daredevils in everyone who likes to experience the Dubai lifestyle:
1. Try Flyboarding
You can try to soar high in the sky through a water-propelled board. For beginners and newbie enthusiasts, the huge playground offered by JBR Beach is a good training ground. In the end, you will have a great splash.
2. Try Dubai Marina's Zipline
Slip through the Dubai Marina's skyline at 170 meters up and with an average speed of 80 km per hour. XDubai's XLine is the world's longest zipline in an urban area. It measures 1 kilometer and an inclination of 16 degrees. Two zip lines run concurrently which enables you to ride the zipline with a loved one.
3. Go Swimming with Sand Tiger Sharks
The Dubai Mall Aquarium allows tourists whether certified divers or not to swim with sand tiger sharks in a 10 million liter tank. The daredevils must go through a short course within the premises before they plunge into the tank with a divemaster and dive instructor.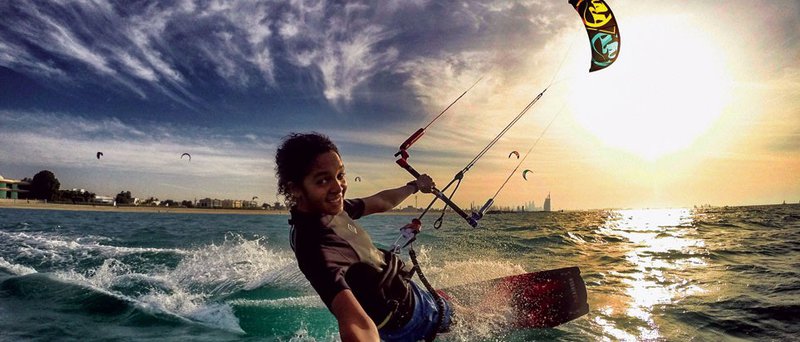 4. Find out How to Kitesurf
At the Arabian Gulf, you and your friends can try the wind-powered kitesurfing. There are other exciting activities such as paragliding, sailing, wakeboarding, snowboarding, and surfing. This sport will require that you get on board and enable the wind to propel you across the blue waters. Sign up with the Kitesurf School Dubai anytime.
5. Go Driving Across the Dubai Desert's Waves of Sand
Have fun driving along an off-road dune. Book with Arabian Adventures for an adventure in the sand with your friends. A guide will lead you through the natural trails of the desert where great snapshots can be taken. With an exclusive membership pass from My Emirates Pass, you can enjoy a 20 percent discount on this tour or any other safari adventure.
6. Enjoy the Breathtaking Bird's Eye View of Dubai
You'll enjoy a bird's eye view of Dubai through a freefall from 13,000 ft with Skydive Dubai. You won't forget the rush you get when you glide over the Palm Jumeirah and see the city from a different perspective. You may try the tandem skydive with a qualified instructor who will give you a proper briefing before you start the activity.
7. Enjoy Making a Big Splash
Dubai is always humid; that is why it is home to many waterparks. Visit Aquaventure for the most thrilling water park adventures such as the iconic Leap of Faith. This is a water slide that leads into a 27.5m plunge that gives you the illusion of diving into a tank with stingrays and sharks. There is a water-related activity suitable for all ages. My Emirates Pass holders will enjoy 20 percent on the admission fee to the park and its largest aquarium, the Lost Chamber.
If you are moving to Dubai and you want to make sure you'll experience everything about Dubai lifestyle, contact ReDubai for advice.