Several activities can be done in Dubai for a first-timer. One can go kite surfing, watching a marvelous skyline from the world's tallest building to exploring the Sahara from the back of a camel. No matter what you fancy, you can always find the best adventures in the country.
In 2018, there were 16 million international tourists in Dubai, many of them are looking for Dubai investment properties. This is according to Dubai's Department of Tourism and Commerce Marketing. The influx of tourists has grown significantly after it has been named by TripAdvisor as one of the world's top 10 destinations. The following are 5 of the Dubai must-dos for any tourist:
1. Enjoy a Camelback Bedouin Adventure
For thousands of years, the nomadic Bedouin people lived on the desert with their camels and other livestock. You can have a glimpse of what this ancient culture is like by going around the Al Marmoom Desert Conservation Reserve on camelback. The guides will be hosting a falconry show and dinner will be served Bedouin-style with lamb, coconut rice, camel meat, and fresh chicken.
2. Go up to the Top of the World's Tallest Building
The Burj Khalifa is an iconic structure that can't be missed on the Dubai skyline at 2,716 feet tall. It opened in 2010 and has remained to be the tallest building in the world. Sweeping views can be enjoyed at the observation decks found on the 124th, 125th, and 148th floors. You may also dine and be mesmerized by the view inside the world's tallest restaurant At.mosphere.
3. Watch a World-Class Show
Witness Dubai's La Perle. It is a modern artistic and vibrant acrobatic show laced with Middle Eastern flair. The show is inspired by Emirati culture. It is staged with cascading waterfalls on a 2,820-foot aqua stage filled with acrobatic artists and stunt performers. Seats are wrapped 270 degrees around the stage for a more up close and personal experience.
4. Shop and Have Fun at the World's Largest Mall
The Dubai Mall is located in downtown Dubai. It is known as the world's largest mall at 6 million square feet. The mall houses 1,300 retail shops and more than 200 spots for food and drinks. You can also swing by a gigantic aquarium with more than 140 species and 33,000 animals. Ice skaters will love the Olympic-size ice-skating rink. An indoor theme park is also found inside the mall.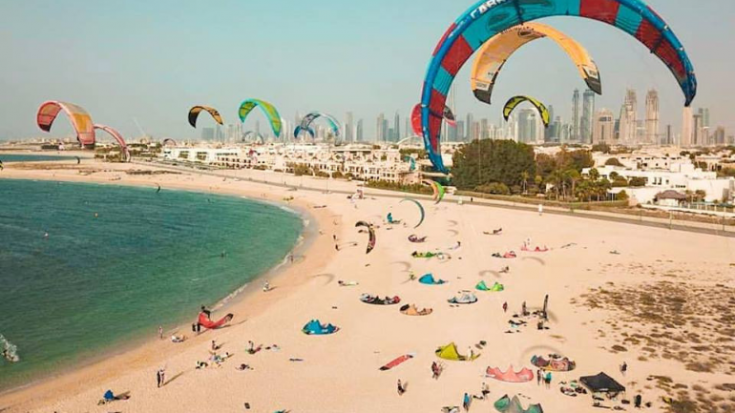 5. Visit Kit Beach for Kitesurfing or Simply Getting Some Tan
Kite Beach is a white-sand beach that stretches 7.5 km long. It is known for kite surfing, stand-up paddleboarding, and wakeboarding. You can also find a kite surfing school on the site during the summer months.
You won't be able to experience Dubai without going through all these activities. It's good to know about Dubai's lifestyle first before setting up a company here. Invest in Real Estate Dubai today!