As UAE's COVID-19 cases continue to surge at 8,238 (as of April 22, 2020), the government is scrambling to contain the deadly virus. The UAE government has implemented drastic Dubai lifestyle chances and measures to combat the pandemic.
As the regulations continue to tighten, let us learn of the newly implemented rules and make sure to follow them to a T. The Dubai government remains in top shape to contain the virus and recover the economy sooner.
Drastic Dubai Lifestyle Measures Implemented to Combat COVID-19
24-hour Movement Restrictions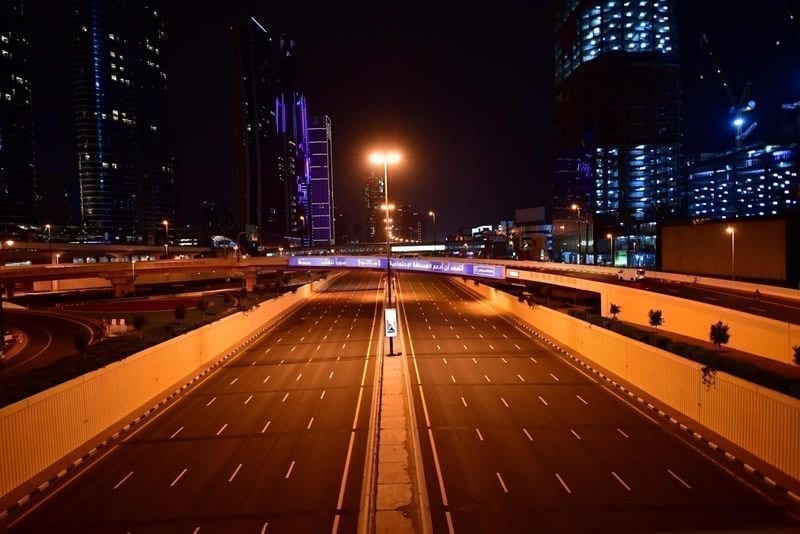 The UAE government has restricted the citizens' movement for 24-hours. This Dubai lifestyle measure was implemented to give way for country-wide sterilization and disinfection process to major roads and districts. You can see the Sheikh Zayed road devoid of any cars and people at night.
Closing of Non-Essential Establishments
Most major malls and non-essential shops in UAE and Dubai have stopped operating for the time being. The purpose of this Dubai lifestyle change is to control the people's movement and gathering in large crowds.
With most establishments shut down, most people are forced to stay at home and only go outside when necessary.
Essential Establishments to Open 24 hours
Meanwhile, essential establishments like groceries, supermarkets, pharmacies, and petrol stations can now operate 24/7 to cater to the public's growing demand.
Selected bakeries and restaurants are open to cater to take-out and delivery orders. Take-out customers must also adapt to the Dubai lifestyle social distancing to avoid the spread of the virus.
Supermarkets Allowed to Open Until Midnight
Due to social distancing, the ins and outs of people in the supermarket are heavily controlled. Not only it creates a hassle due to the long queue of lines, but the public is also subject to panic buying. Due to limited operating hours, a lot of people flocked to supermarkets to buy and hoard supplies.
The UAE government addressed this problem by allowing supermarkets to operate until midnight (with some 24/7). This Dubai lifestyle measure aims to curb the public's woes of panic buying. Aside from that, this move will fight against hoarding.
Moving Permit and Safety Equipment
Those people who need to go outside for essential purposes must secure a moving permit. The authorities will give permits to residents and they must be used for essential purposes only.
Aside from that, residents are required to wear masks and gloves when going outside. When inside an establishment, people must practice social distancing at all times.
Work From Home Policy
Another Dubai lifestyle change made by the government is the implementation of work from home policy. To keep the economy running, some private and public sectors allow their employees to work remotely from the comforts of their homes.
The only exemptions to this rule include essential sectors like healthcare, media, aviation. However, employees of the said industries must bring a letter or documents as proof of their work nature.
E-learning and Online Exams
Another major Dubai lifestyle change is the implementation of e-learning. All UAE schools are now required to conduct online classes and exams until the end of the academic year.
The government is hopeful that students can still finish their education until June before the next semester opens in late 2020. Hopefully, the COVID-19 pandemic will also be over by then.
Tighter Health Security Measures on Public Transportations
Another crucial Dubai lifestyle change is tighter security measures on public transportations. Dubai Metro was suspended to avoid the influx of crowds from using train lines. Meanwhile, the buses have limited the number of persons who can board the bus per trip to maintain social distancing.
It also provides free rides for individuals who work in essential sectors. Meanwhile, taxis have installed isolators to separate drivers from passengers; in addition to disinfection procedures.
Despite the threat of the pandemic, Dubai remains on a top shape to contain and battle the virus. They encourage foreign investors to invest in Dubai real estate and assure everyone Dubai is still safe to live in.